COVID-19 Testing In
Shibuya & Otemachi Tokyo, Japan
Shibuya Clinic: 4th & 5th Floor, NMF building, 20−17, Udagawacho, Shibuya City, Tokyo
Otemachi Clinic: B2 floor, Otemachi Place West Tower, 2-3-1 Otemachi, Chiyoda City, Tokyo
RT-PCR Test+COVID-19 Negative Certificate On Next Day→24,530 JPY
(Tax Included)
Free PCR Test For A Person Living In Tokyo.

Feeling bad

Anxious about COVID-19

without symptoms

can get Free PCR Test
Book Your PCR Test Right Now
Notification of results is
the day after.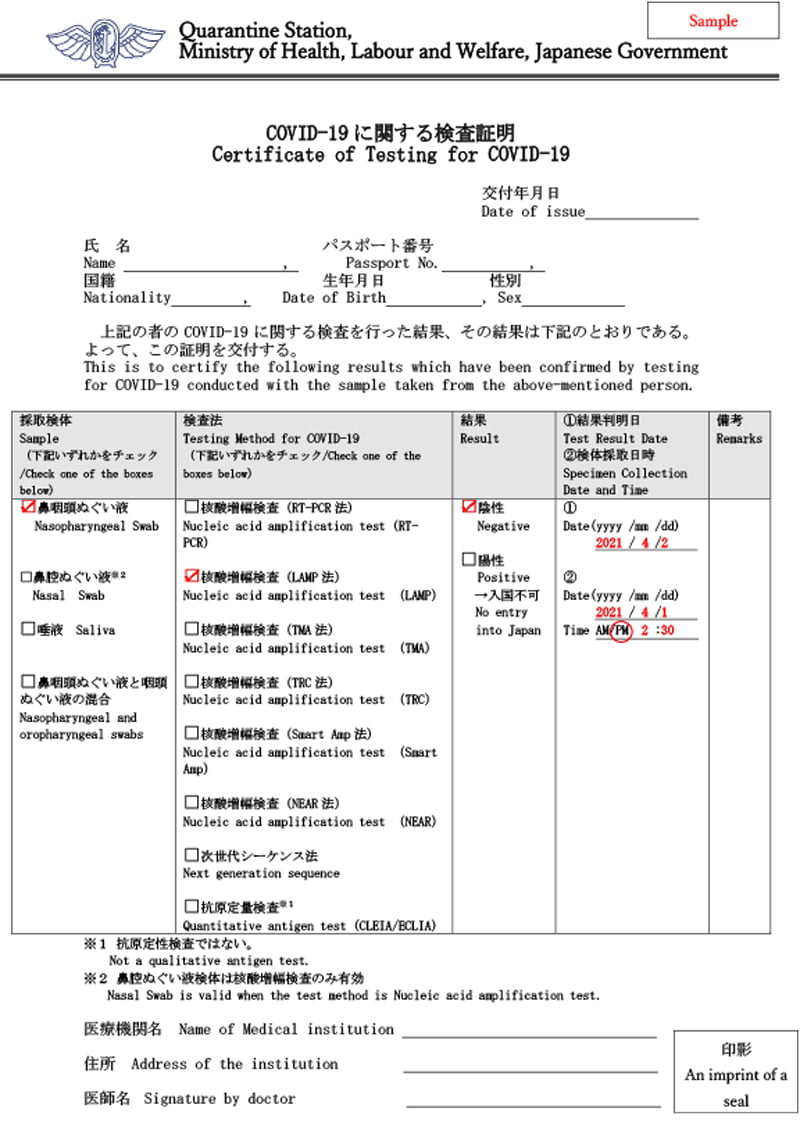 Get Ready For Your Flight

TeCOT Clinic

RT-PCR

→The way accredited by government.

In Any Form

→All the information that should be
stated for your travel is fulfilled.
FAQ

Questions & Answers
Is the test covered by insurance?

We are afraid PCR and antigen tests for certificate purpose is not covered by national health insurance. If you have your private travel insurance, please contact the insurance company for their services coverage.

We are also recognized by the government for Free COVID-19 PCR.
Free walk-in COVID-19 PCR is available, please stop by our clinic whenever you want.
※Please don't forget your ID card which has your current adress in Tokyo.
Is it available to book by calling?

We are afraid, No. Please book through the Booking Page.
Can I arrive by foot/walk-up?

Yes.
Just 2 minites from Shibuya Station to My medcal clinic Shibuya.
Only 3 minutes from Otemachi Station to My medical clinic Otemachi.
How can I send you the prescribed form?

We will send you the E-mail address.
https://mymc.jp/contact/individual/
Can I use credit card?

Yes. Our payment methods are "Master /VISA /JCB /Amex /Diners /DISCOVER /Cash."
Shibuya Clinic

4th & 5th Floor, NMF building, 20−17,
Udagawacho, Shibuya City, Tokyo

Otemachi Clinic

B2 floor, Otemachi Place West Tower,
2-3-1 Otemachi, Chiyoda City, Tokyo
About us
Proof of Vaccination: https://mymc.jp/outpatientconsulation/travelers/
Shibuya Clinic: 4th & 5th Floor, NMF building, 20−17, Udagawacho, Shibuya City, Tokyo
Otemachi Clinic: B2 floor, Otemachi Place West Tower, 2-3-1 Otemachi, Chiyoda City, Tokyo